Are You Prepared?
Floods are the most common natural disaster in the United States. Floods cause more deaths and damage than any other severe weather event. In San Luis Obispo County, flooding most commonly occurs after periods of heavy rain and winter storms. San Luis Obispo County is also at risk of a levee break or dam failure which can cause flooding in inundation areas.
Winter storms cause flooding, mudslides and other issues, such as power outages. Take small steps to prepare, survive, and be safe before, during, and after the storm. Help protect yourself and your family during the winter storm and flood season.
If you are in need of sandbags, you can purchase them here. Due to high demand, residents should call and confirm availability before arrival.
Many locations around the county have sand available to residents. Bringing your own sandbags and shovel is necessary at most locations.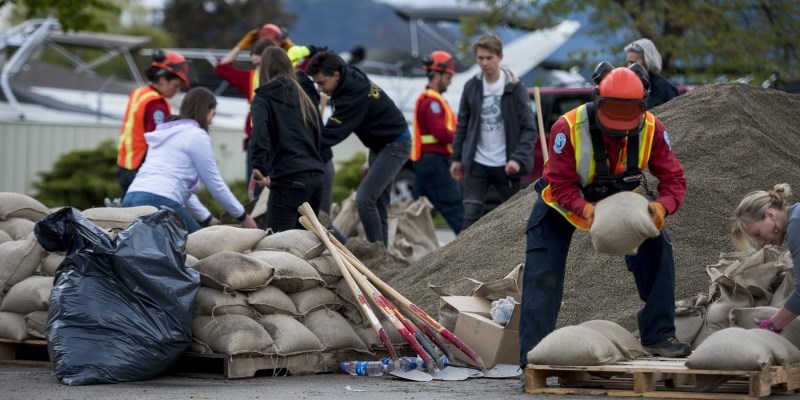 Before the Storm or Flood
Prepare by gathering emergency supplies, making a family plan, and discussing emergency notifications and expectations with your workplace and/or your children's school.
Install and/or check the batteries on your smoke detectors and carbon monoxide detectors.
Keep a battery powered radio and flashlight in an accessible location. Acquire extra batteries.
If you have access to an outside generator, have an electric cord long enough to keep the generator at least 20 feet from doors, windows and vents.
Make plans for how you can avoid driving in extreme weather.
Prepare your home and your property for the upcoming storm season; clean out gutters, maintain trees, and inspect and/or repair your roof.
Identify if your home is in a flood zone.
Be alert to changing weather conditions by following local news sources, the National Weather Service, and utilizing a weather radio.
Stay indoors and avoid driving as much as possible. If driving is necessary, take emergency supplies with you and drive with extra caution.
Do not drive or walk through fast-moving water or flooded areas.
If the power goes out, close off unused rooms to consolidate and retain heat.
Bring pets inside.
Stay tuned to local TV or radio stations to keep up to date on the situation and changing conditions.
Never use generators, outdoor cooking equipment, or gasoline or propane heaters indoors.
Keep an eye out for storm damage that may cause harm such as broken tree limbs, damaged power lines, etc.
If you live in an area that floods:
Know the types of flood risk for your area. Visit the FEMA Flood Map Service Center for more information.
Find out if you have flood insurance.
Protect your property. Clean gutters and drains. Move valuables to higher levels.
Identify an evacuation route and safe location.
Determine if you live downstream from a dam or in the inundation area for a levee break.
During the Storm
Move from outdoors into a building or car with a roof.
Listen to Public Alert and Notification systems and media for emergency information.
Avoid using electronic devices connected to an electrical outlet.
Do not drive around road barricades or other closures. Roads and bridges may have washed out. Even six inches of moving water can move a vehicle.
After the Storm
Pay attention to authorities and weather forecasts for information on whether it is safe to go outside or return home and instructions regarding any potential flash flooding.
Watch for fallen power lines and trees. Report them immediately.
Wear heavy gloves and thick boots during clean up.
Do not touch electrical equipment if it is wet or you are in standing water.
Avoid standing in flood waters. There can be dangerous debris and contamination.
Protect Your Home
Sandbags can protect your home against major damage. They cannot keep water completely out of your home.
Sandbags are for sale at locations around the county.
Residents can then fill their sandbags at the following locations. You will need to bring your own sandbags and shovel.
Most homeowner's insurance policies do not protect against flood loss. For information on flood insurance, call your location insurance agent. The National Flood Insurance Program provides helpful flood insurance information.
Understanding Flood Terminology
The National Weather Service issues flood alerts using specific terms. The terms tell you what action, if any, you should take.
Flood Advisory
Be aware. Keep an eye out for changing weather conditions. Flood Advisories are issued when a specific forecasted weather event may become a nuisance. Flooding should not be bad enough to issue a Flood Warning.
Flood Watch
Be prepared. Keep an eye out for flooding and be prepared to move away from the area. A Flood Watch is issued when conditions are favorable for a hazardous weather event to occur. Conditions are favorable for flooding.
Flood Warning
Take action! If you are in a flood prone area, move away. Flood Warnings are issued when the weather event or flooding is about to occur or is already occurring.
Flash Flood Warning
Take action! If you are in a flood prone area, move to high ground at once. A Flash Flood Warning is issued when a flash flood is about to occur or is already occurring. A flash flood is a sudden violent flood that can take minutes to hours to develop.
The County Office of Emergency Services (OES)
1055 Monterey Street D430
San Luis Obispo, CA 93408
County OES Business Line: 805-781-5678
County OES Business Email: oes@co.slo.ca.us