The Ingestion Pathway Zone and Agricultural Sectors
In addition to the Emergency Planning Zone, an Ingestion Pathway Zone (IPZ) which extends in a 50 mile radius from Diablo Canyon Power Plant (DCPP) has been designed to assist officials with the protection of the food supply following a radiological release during an emergency at DCPP.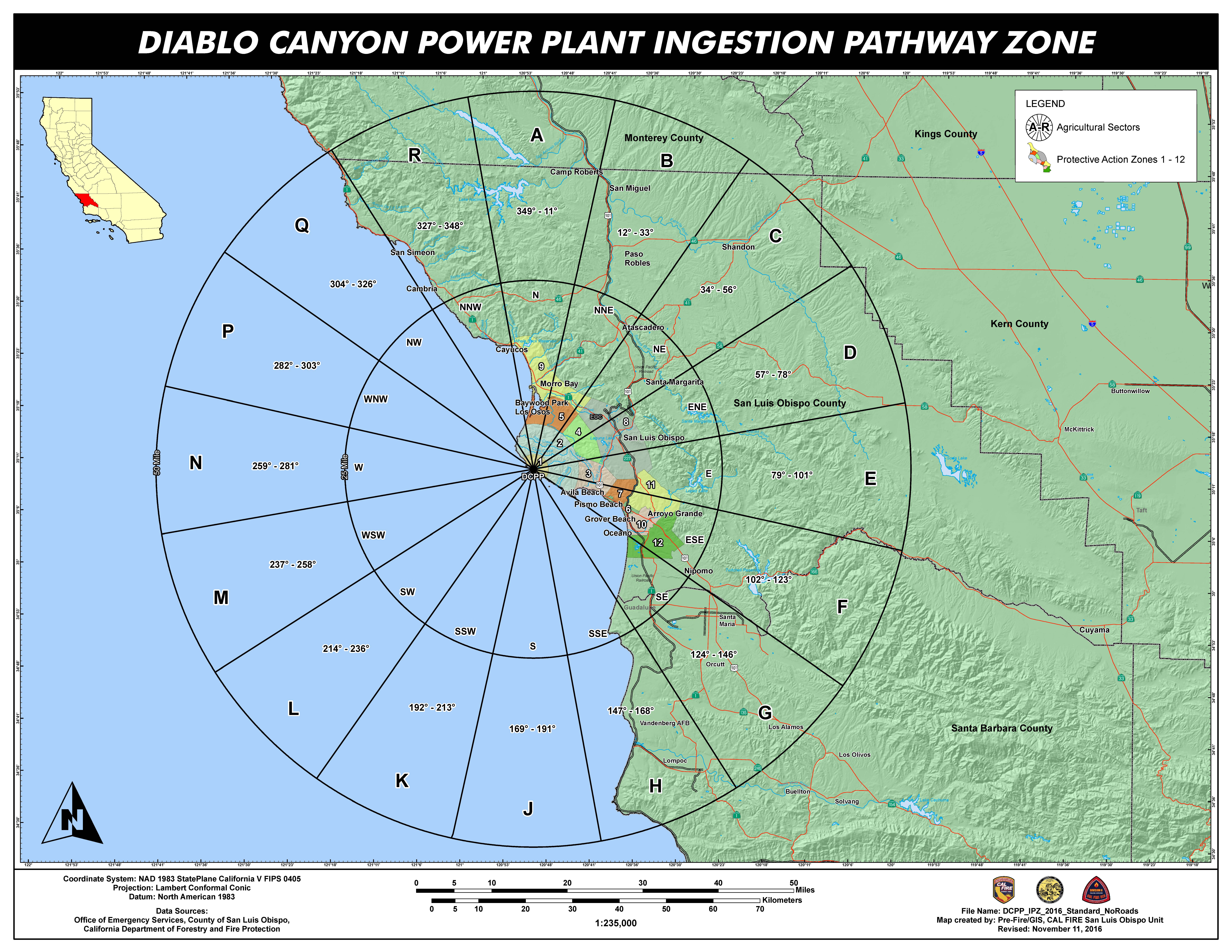 Possible effects to agricultural products and areas
Radioactive materials released during an emergency at a nuclear power plant may be spread by wind and dropped on land, crops, livestock, food, and water supplies causing contamination. Contamination is the presence of radioactive materials where they are not wanted. The impact on agriculture will depend on the extent of the radiological release, amount and type of radiological materials, weather conditions, and other factors. Contamination may be minor and not cause any ill effects.
Agricultural Actions
For agricultural areas within the 50-mile IPZ, the main goals of local and state officials will be to prevent contamination of the food supply and to keep contaminated products from going to market. Actions which may be taken to protect agricultural products, animals, and other commodities include:
Quarantine of food, animals, and other agriculture commodities
Temporary or permanent restraint of agricultural activity
Recommendation of placing animals on stored feed
Limiting the movement of commodities and animals until they have been determined to follow health standards
Decontamination or special handling of contaminated animals or other commodities
Temporary holding of commodities from outside the quarantine area to be certified to meet destination shipping requirements
Stopping and inspecting all vehicles coming from or passing through selected areas
Local and state officials will direct the agricultural community on what actions they should take. Sampling and examination will determine the area of contamination and any products affected.
Agricultural Information Brochure
The California Department of Public Health has published a brochure to provide nuclear power plant emergency information for farmers, ranchers, food and nursery stock producers, and distributors. The brochure is intended to provide an overview of nuclear power plant emergency planning and possible actions that government officials may direct to mitigate the consequence to the food supply should an emergency occur.
The County Office of Emergency Services (OES)
1055 Monterey Street D430
San Luis Obispo, CA 93408
County OES Business Line: 805-781-5678
County OES Business Email: oes@co.slo.ca.us