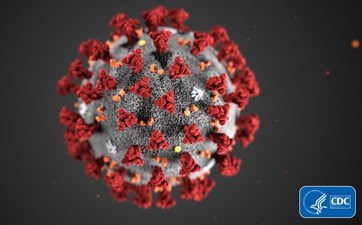 Coronavirus Disease 2019 (COVID-19) is a virus identified as the cause of an outbreak of respiratory illness first detected in Wuhan, China. COVID-19 is believed to have started with an animal-to-person spread. However, it is now spreading from person to person in China. Limited spread among close contacts has been detected in some countries outside China, including the United States.
This virus is not currently spreading in communities in the United States. There have been no cases in San Luis Obispo County. Right now, the greatest risk of infection is for people in China or people who have traveled to China. Risk of infection is dependent on exposure. Close contacts of people who are infected are at greater risk of exposure, for example, health care workers and family members of people who are infected with COVID-19.
Local officials are in close contact with the California Department of Public Health (CDPH) and the Centers for Disease Control and Prevention (CDC) to ensure up-to-date information and response regarding Coronavirus and the risk to San Luis Obispo County residents.
Guidance for employers for planning and response
Guidance for travelers going to and returning from China
Guidance for healthcare professionals
Coronavirus Disease 2019 symptoms
Patients have reportedly had mild to severe respiratory symptoms, including:
fever
cough
shortness of breath
The CDC is reporting that symptoms of the virus may appear 2 to 14 days after exposure. This is based on the known incubation period of the MERS viruses.
If you have been to China within the past 2 weeks, or in close contact with someone who was, and develop any of these symptoms, please call your doctor. Do not go to your doctor's office or the emergency room without calling ahead to inform them of your symptoms and recent travels.
Protect your health
There is currently no vaccination for COVID-19. The best prevention is to avoid being exposed to the virus.
As with any virus, there are also steps you can take to protect your health and those around you:
Wash hands with soap and water for at least 20 seconds. If soap is not available, use an alcohol-based hand sanitizer.
Avoiding touching eyes, nose or mouth with unwashed hands.
Avoiding close contact with people who are sick are all ways to reduce the risk of infection with a number of different viruses.
Staying away from work, school or other people if you become sick with respiratory symptoms like fever and cough.
Cover your cough or sneeze with a tissue and discard the tissue.
Clean and disinfect frequently touched objects and surfaces regularly.
Still have questions or concerns?
The CDC provides answers to many frequently asked questions on their website.
Other Coronavirus Disease 2019 information resources
County of San Luis Obispo Public Health Department
California Department of Public Health
Centers for Disease Control and Prevent (CDC)
Office of Emergency Services
1055 Monterey Street D430
San Luis Obispo, CA 93408
Telephone: 805-781-5011
Email: oes@co.slo.ca.us